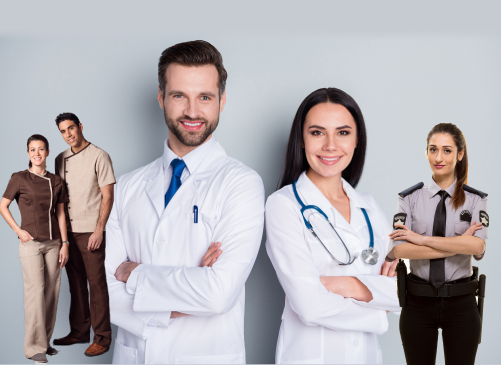 Our comprehensive skills span three decades and include uniform design selection, fabric development, size ratios, and sample preparation for customer approval to meet unique client needs. We collect ideas from the customer concerning the user's job profile, working conditions, safety issues, and design specifics during this procedure.
We stand by our promise to deliver a product that meets our clients' expectations. We are excited to serve new consumers across the country and build a rewarding long-term relationship with them
With LOVE, PNAK welcomes you to the realm of Uniform & Fabric
With over 100 years of aggregate uniform delivery expertise, PNAK is set to raise the bar and change the market to become India's premier uniform manufacturer and uniform supplier.
PNAK is a major Uniform Manufacturer. We process, do technological engineering, and develop uniforms for a variety of industries in India, including culinary and entertainment, corporate, car, manufacturing, construction, security, and medical and wellness, to mention a few.
We are a Uniform Manufacturer that creates uniforms that make you feel suitable, calm, and healthy so you can work at your best. We take inspiration from current trends and apply it to uniforms in a subtle way.
PNAK is inspired by life and people who stand up for who they are and what they value. Our clients are a group of individuals that are willing to take risks in order to pursue their goals and make a difference. As a uniform manufacturer, PNAK sets itself apart from the competitors by offering a complete apparel solution.Contact PNAK Team to know more.
Product Range
Manufacturer of Uniforms for Hospitals in India

Manufacturer of Uniforms for Pharmaceutical Cover All/ Overall, Protective Clothing's in India

Manufacture of Uniform for School in India

Manufacturer of Uniform Tracks in India

Manufacturer of Uniform Shirts in India

Manufacturer of Uniform Trousers in India

Manufacturer of Industrial Uniforms & Mechanical Uniforms/ Factory Uniforms in India

Manufacturers of T-shirts & Trousers in India

Manufactures of Event Uniforms in India