Protective Uniform Manufacturer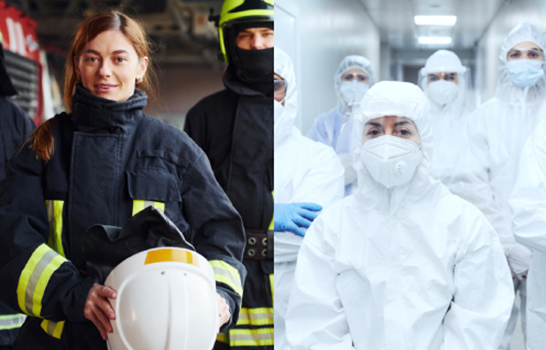 PNAK is the leading protective uniform manufacturer based in Ahmedabad, Gujrat- having customers all over India and overseas. Our experience and expertise separate us from other uniform suppliers. PNAK established itself as the top manufacturer and supplier of head-to-toe protection. We are well-recognized protective clothing suppliers for various industries.
What is PPE manufacturing?
Personal Protective Equipment (PPE) is a type of clothing designed to protect the wearer's body from infection or injury. The hazards addressed by protective clothing include electrical, heat, physical, biohazards, chemicals, and airborne particular matter. We are one of the premium PPE manufacturers in India, and our protective uniforms are splashproof and waterproof against harmful and infectious chemicals commonly used in various industries. Protective Equipment is generally used for work-related occupational health and safety purposes, and other sports and recreational activities. The main use of PPE is to reduce worker exposure to hazards in an environment where engineering controls and management controls are not effective enough to reduce the risk.
We are an experienced protective uniform manufacturer and offer a wide range of high-quality protective uniforms and safety coveralls suitable for various industries. These safety coveralls protect against harmful chemicals and are made of breathable, comfortable, and durable material that allows employees to do their work with ease. Our protective uniforms are available in a wide range of colors and styles, letting you meet all the safety standards. We are one of the top PPE manufacturers in India, providing protective uniforms with the printed logo of your company brand. Our safety coverall includes PPE kits for the healthcare industry, flame-resistant uniforms, fire retardant coveralls, etc.
PNAK is the manufacturer of high-quality protective uniforms and workwear in India.
What are the Specifications of our PPE Uniforms?
Anti-Odour Uniforms

Anti-Wrinkles Uniforms & Workwear

Fire Retardant Safety Coverall

Soil Release Work Wear & Uniforms

Anti-Bacterial Uniforms

Anti-Microbial Uniforms

100% Meta Aramid Self Retardant

High Vision Coverall

100 % Cotton Coverall

Drill Cotton/Poly Viscose Coverall

Polyester Cover all

Polyester + Carbon Cover all

Lint Free Coverall

Cotton + Carbon Coverall
We are one of the premium protective clothing suppliers for a wide range of protective uniforms including hospital protective clothing, pharmaceutical protective clothing, fire safety coverall, etc.