Industrial Uniform Manufacturer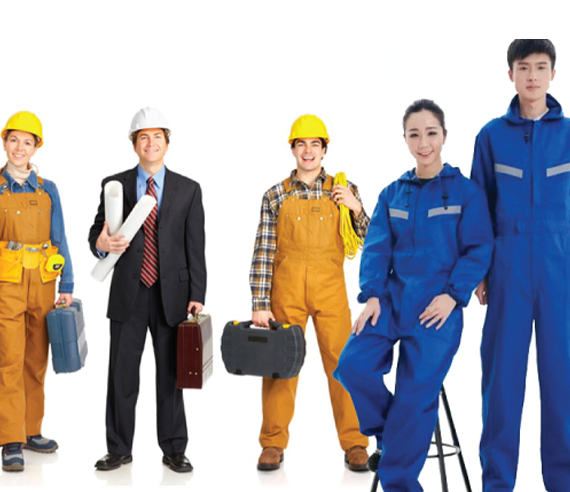 Why buy PNAK Industrial Uniform Manufacturer?
Uniforms are becoming the new trend. Nowadays in every industry or company employees wear uniforms. Uniforms or workwear give a different identity to your company or your brand name. In this competitive world, uniforms give a unique identity to your brand name.
PNAK smart workwear also gives a smart and distinct look to your employees. Industries should buy uniforms from reputed and trusted industrial uniform manufacturers. Business owners should have to consider some important factors when buying uniforms for their staff such as material, color, pattern, etc. In industries like food, retail, construction, etc. uniforms are crucial.
How PNAK can help your Industry?
As one of the trusted industrial uniform suppliers in Ahmedabad, we understand that distinct clothing is important to establish a unique brand image in this competitive world. We design and manufacture customized uniforms as per your industry demand. Industrial uniforms are commonly made for the employees working in industries such as labor. Uniforms of a particular industry represent the image of a particular brand.
Key Features
Customized Design:PNAK has been one of the top industrial uniforms manufacturers and we understand that some of the industry look for unique work wear for their staff. Hence, we have a team of the most experienced and creative designers to design customized uniforms as per your company or industry requirements.

Affordable Pricing: We know industries like automobiles want the most comfortable work attire for their employees but sometimes budget can be a hurdle. We have our in-house production facilities with state-of-the-art machinery so we manufacture cost-friendly uniforms for your workers.

Comfortable work wears: We understand that; your industry worker the needs most comfortable work attire so that they can work with convenience. When your workers wear comfortable clothing they do their work with ease which also increases their productivity at the workplace. To cater to your demands, we design the most convenient and comfortable uniforms for your employees.

Creates Brand Image: We manufacture uniforms with your company logo or name, it helps to enhance your brand image. Our design creates a sense of belonging in the workplace which helps your brand to stand out with pride.

Affordable: We understand that you want your workers to be as comfortable as possible while they work. However, we recognise that budgets can be a stumbling block at times. As a result, we make sure to include high-quality uniforms at reasonable costs.

Maintenance-free: We know that most employees in the industry have little time or patience for dealing with delicate materials. Our uniforms need little or no maintenance, allowing the person wearing them to concentrate on their jobs rather than on how to keep the uniforms ready. We focus on tussle-free, effective uniforms.

Our Spectrum of Industrial Uniforms

Automobile Uniforms: In any industry uniforms or how the way employees dress and represent themselves is very important. Workwear is important, but more than in any industry uniforms are crucial for the employees working in the automobile industry. Uniforms or distinct work wear in the automobile industry build a sense of strong teamwork and belonging and they promote the brand image. At PNAK we design customized automobile uniforms with industry logos so that your customers will have a positive impression of your brand.

Workshop Uniforms: For employees who are working in workshops such as labour it is important that they wear uniforms. We are one of the most trusted industrial uniform suppliers in India. For many years we manufacture and supply comfortable work attire for the workers which also gives smart look to your company workers.

Technical Uniforms:As leading industrial uniform manufacturers, at PNAK we use durable and comfortable fabric so technical workers do their work with comfort.

Engineering Uniforms:Mechanical and civil engineers are required to wear unique attire on-site visits to look different from others. We supply customized engineer's work attire with the name of the company.
Benefits of industrial wear
Safety
Brand Value
Cost-effectiveness
Boost Morale
Strong Identity
Overall Growth
Team Spirit